What an exciting time to join Web Usability. Not only have I started just in time to be invited to the Christmas party but my arrival also coincides with the launch of our brand new website.
But how rude of me, let me introduce myself first. My name is Tara. I am nearly 2 years old (1 day to go!) and embarking on my first job in the grown up world. For many, I am a familiar face around the office, having visited my Mum, Director Sarah, on a regular basis but really, I haven't been of much use, what with all the mischief and napping I've been up to until now.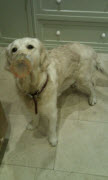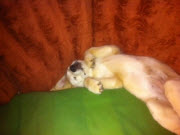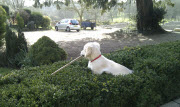 And as much as I would love to continue my tirade of destruction against my mum's border hedges, we must all eventually settle down into a job and embark on the dreaded daily grind.
And so to work I must go.
The first few days in my new job have been really great. Getting to grips with modern technology hasn't been too taxing - like everyone my age, early exposure to smartphones and tablets has made sure we are a generation of whizz kids - although the lack of opposable thumbs and limited paw-dal dexterity has made setting up my company iPad a bit more time consuming than initially thought.
While my input to the new website has been limited, I was pleased to be able to proof my profile page, I wouldn't want them to sell me short now, and I had to be sure the punctuation and grammar was top notch.
But it seems that old habits die hard and just occasionally, it all gets a bit much, and I have to have a quick nap to keep me going for a whole day.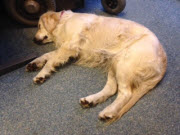 Through my blogs, I hope to bring you a new perspective on the world of UX Consultancy and explore some of the hard hitting issues we face in our industry, such as the species prejudice seen in our tester recruitment, whether accessible websites really work for colour blind individuals like myself and the importance of stress reduction in the work place and how best I can provide it.