I recently took a trip onto the Zara website. It is a trip I take often, but sadly, never without frustration. I was looking for a dress for an event that I was attending. With clear goals of my own in mind, I realised how hard it actually was to achieve these goals quickly and seamlessly.
As a brand known for innovation and taking risks in the fashion industry, Zara's e-commerce site is a reflection of this. However, their pursuit of quirky aesthetics has compromised the usability of their website and app.
Quirky aesthetics over usability
Firstly, the controversial styling shots (think coat on the head and jackets back to front!). This is undoubtedly a clever marketing tactic, with the unusual way of displaying their clothes gaining significant attention on social media. There is even an Instagram page dedicated to compiling all the strangest shots so shoppers can share their annoyance and laugh about it. Despite the humour in this, not much can be said for the user experience when you cannot properly see the product you wish to purchase.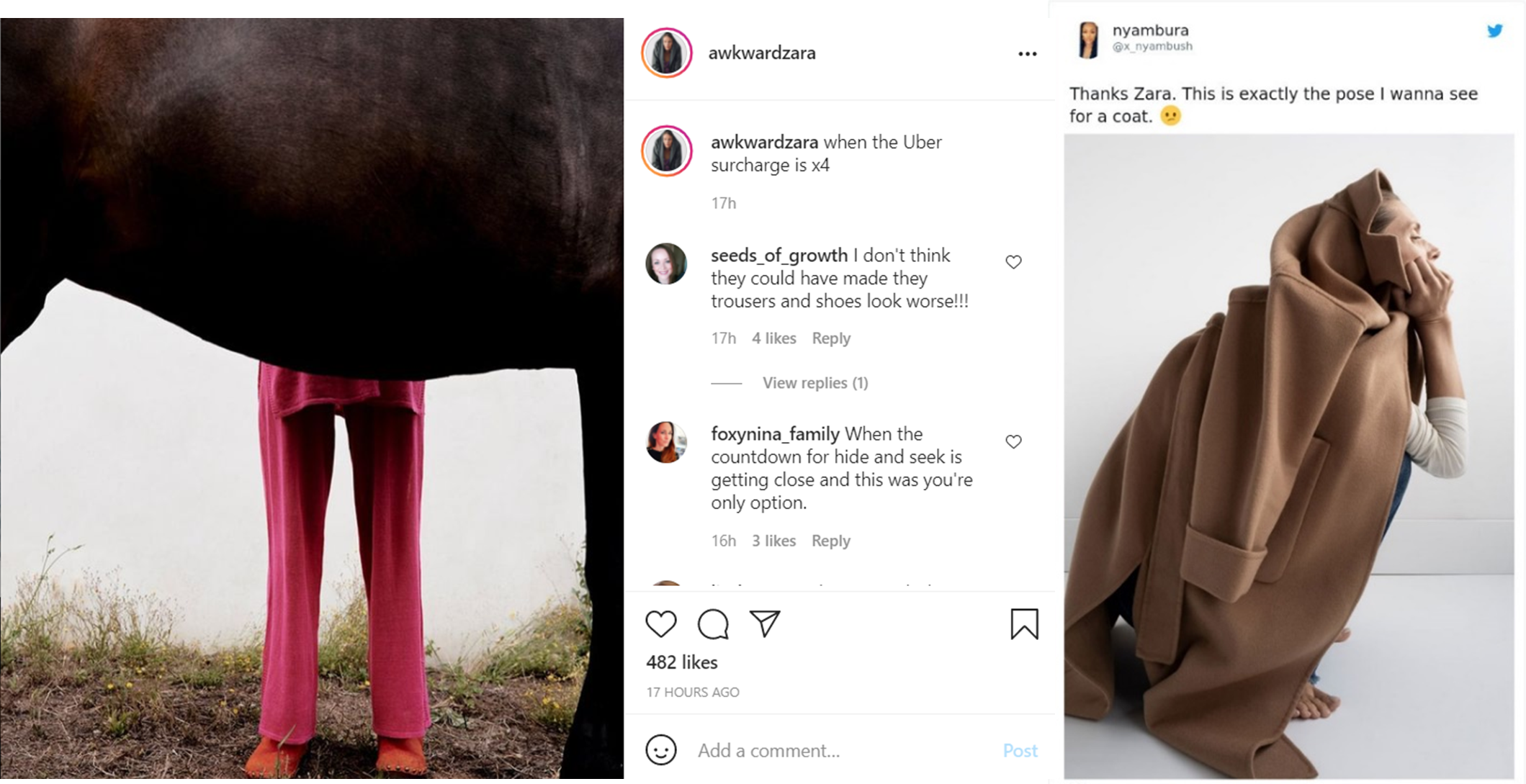 Notwithstanding their unusual modelling picture choices, there are also some serious issues with the functionality of their website and app.
Functionality frustrations
If we take a look at the Zara homepage it is evident that they have taken an editorial approach to their design, as if the user is flicking through a magazine.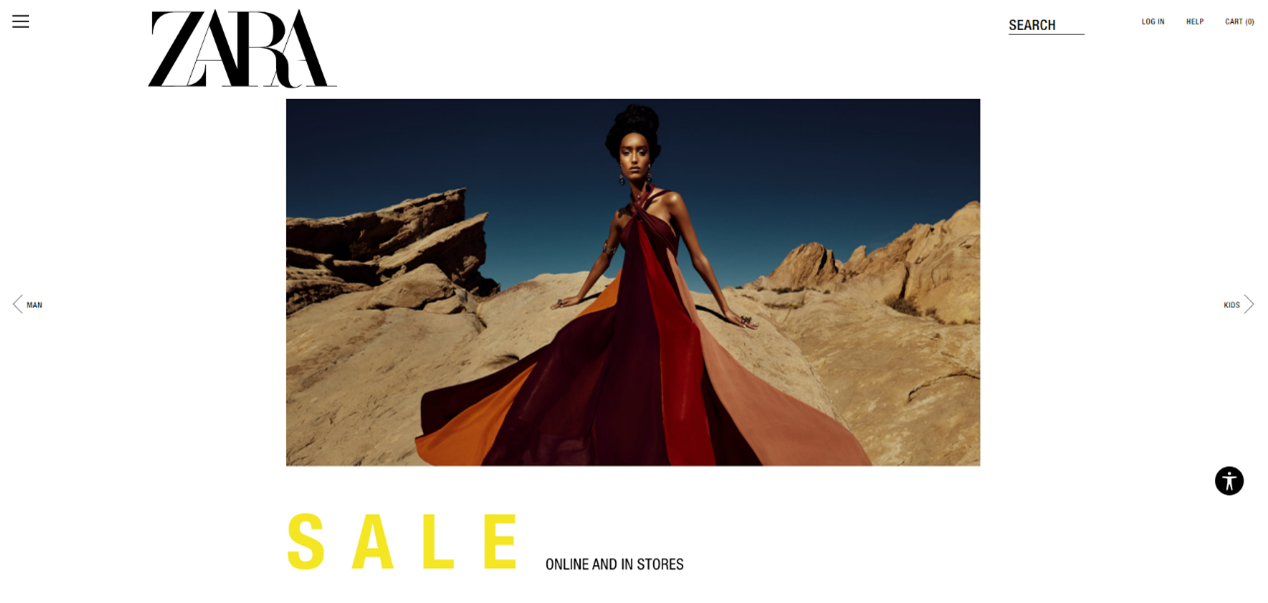 In theory, this minimalist design should work. Nielsen's 10 principles for interaction design set out in principle 8, Aesthetic and minimalist design that "interfaces should not contain information which is irrelevant or rarely needed". However, minimalism should not negate functionality.
For a first time user, I imagine navigating this homepage would be a daunting experience. In place of the traditional top bar navigation is what is known as the hamburger menu – navigation is hidden behind the 'hamburger' icon and is thus less discoverable. Whilst this type of navigation may be suitable for an app, it does not have the same effect for desktop screen resolutions. The amount of time it would take a user to achieve their goals in purchasing a product for the sake of this editorial design raises questions about how far Zara have considered the user experience.
I was similarly confused by the product pages. When scrolling through the dresses I was left puzzled by the negative space between the product shots. Had the page not loaded properly or was this another case of the quirky design? Upon further investigation I realised it was the latter.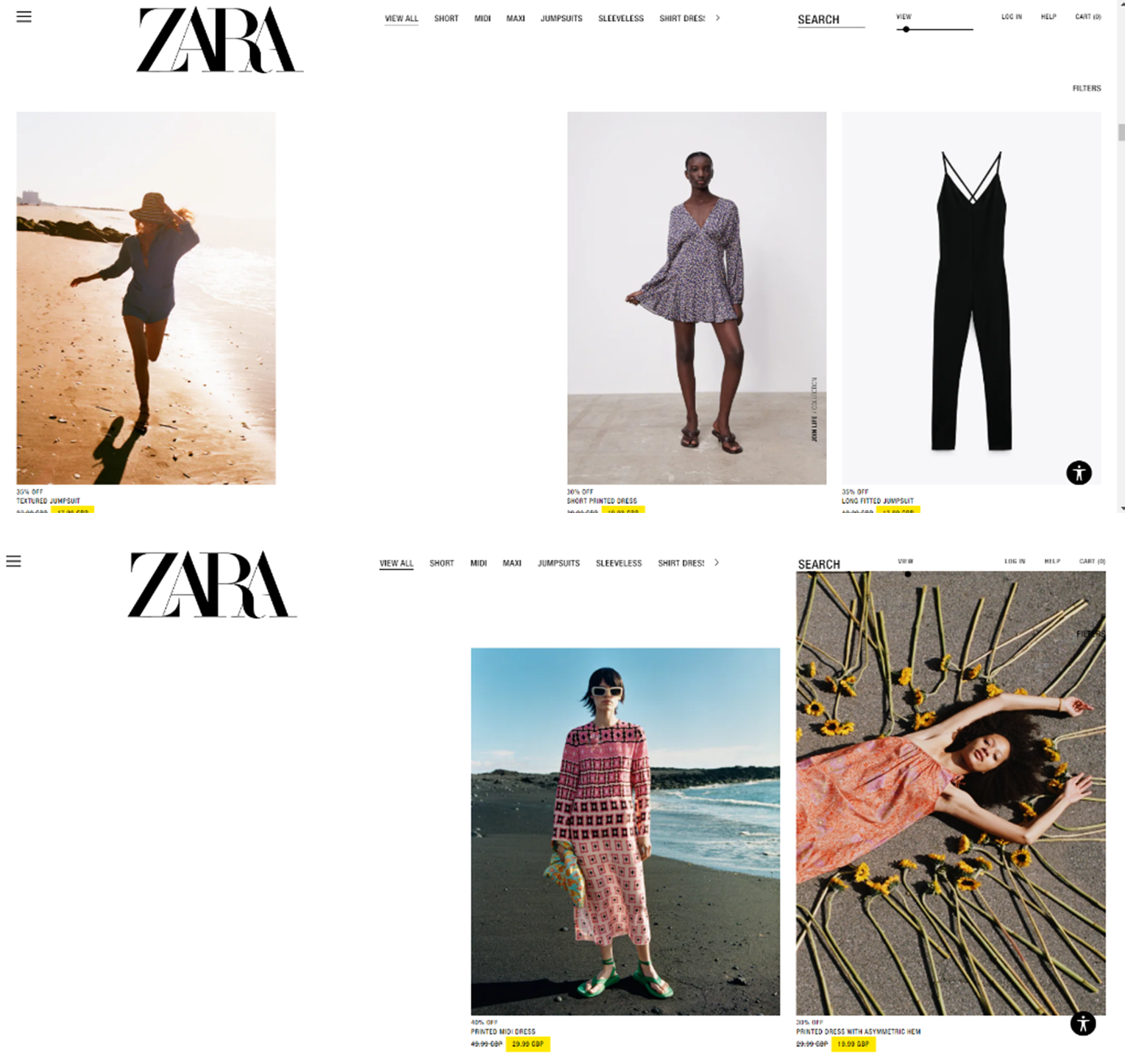 Now, I'm not completely slating Zara. I still love to shop there. The unconventionality that makes their website so frustrating to use is in fact what myself and many others love about their clothing.
Usability take-aways
It would not be impossible for Zara to have a high fashion, minimalist website that is also practical for its user. If we could sit down with Zara, we would ask them two important questions:
Have you considered your user's needs?

Are you confident that the functionality of your website works correctly?
If the answer was no, then we would suggest a round of usability testing. If Zara tried to understand the frustrations of their user, many of the pain points in the customer experience that I have mentioned could be resolved.
Here at Web Usability, in the words of our managing Director, we "adopt a user-led goal-oriented approach to usability testing that surfaces testers' behaviours and actions to help inform thinking about both strategic issues and tactical issues". Take note Zara!
Read more: Website navigation: how do I choose?, Hamburgers don't give off scent!