Like many industries, the UK's museums and galleries are cautiously starting to reopen following the coronavirus pandemic. For all, however, it will be far from business as usual.
The measures they are taking to be Covid-safe include advanced booking, timed visits, one way routes, improved hygiene, and so on. The result of this will be a significant reduction in visitor numbers. The National Gallery's director, Gabriele Finaldi, isn't expecting more than a quarter of the usual number of visitors.
This has pros and cons.
On the good side, as the galleries are less crowded you have the time to view the works in a more contemplative way. Additionally, the one way routes mean visitors are offered a more curated experience. As the BBC's arts correspondent Will Gompertz says "Maybe this is the future".
On the bad side there will obviously be a significant impact on revenues, making it harder for galleries and museums to meet their Government imposed obligations to serve the wider public, not just foreign visitors or the metropolitan elites.
Museums and galleries: current digital services
Museums & galleries have done a lot to their digital presences since entrance to these national establishments was made free in December 2001 to meet these wider obligations.
However, these online offerings still feel secondary to visiting the bricks and mortar.
Looking at the websites of the big players in the arts world, most focus their homepage and the structure of their website (the information architecture) on information about visiting them.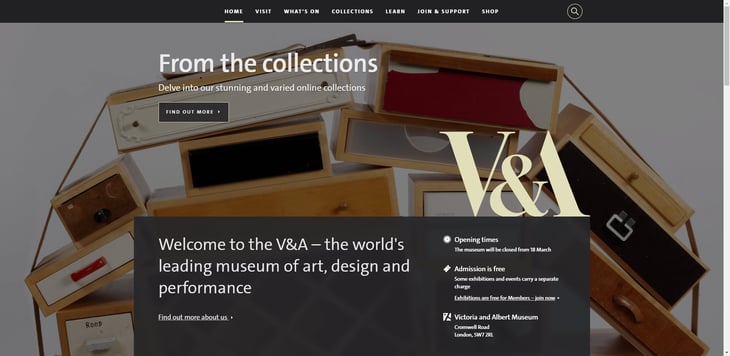 The V&A focuses its home page messaging and the main menu links of getting visitors to the museum.
Some exceptions, like The British Museum, offer the user a much richer digital experience with virtual tours using Google Street View, virtual galleries, podcasts and audio tours.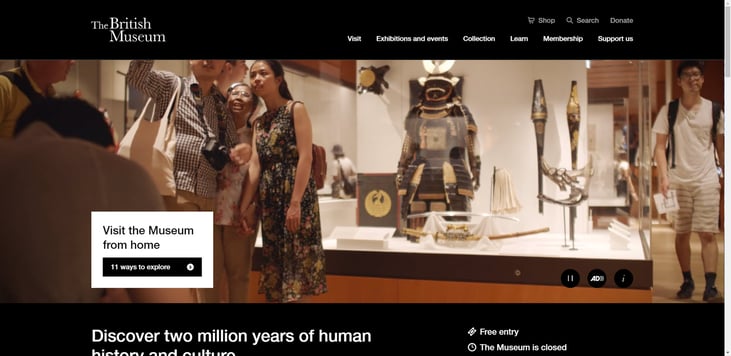 The British Museum promotes it's 'remote' engagement activities on the homepage.
But as visitor numbers are likely remain limited for the foreseeable future, what more could they do to engage their wider audience online?
Museums and galleries: the digital future?
When you Google a specific artist or historical theme, seldom does it turn up our national galleries and museums on the first page of search results. It is difficult to avoid the conclusion that relatively little effort is put into understanding users online needs and how best to meet them.
Museums and Galleries are still largely controlled by the curators and by and large these people are concerned, not unreasonably, with the physical objects themselves. They spend most of their time in the buildings with the objects.
Thinking about users they never see is, understandably, not a priority.
However, if museums and galleries are serious about reaching wider audiences, and engaging with people in world that requires social distancing, they need to put resources into understanding:
Who the users are
How they look for information - by subject matter, rather than institution
How content and experience meets these users needs
(hint: they need to do some discovery research!)
Once its clear what people want, it is an opportunity to try some of the exciting digital technologies that can bring the museum and gallery experience into people's homes (just make sure to do some usability testing to check they can use it too!).
Read more: User research continues in lockdown, Cost effective ways to get user feedback in lockdown