Your website should be usable and accessible for everyone. Testing with disabled users is essential to achieve a comprehensive accessibility evaluation of your website.
Don't miss out on a key market
As well as this obligation to meet the needs of all users, disabled users are a key market not to be forgotten.
Here are some facts taken from the Purple Pound report:
1 in 5 – More than 1 in 5 potential UK consumers have a disability.
£2 billion – Businesses lose approximately £2 billion a month by ignoring the needs of disabled people.
73% – 73% of potential disabled customers experience barriers on more than a quarter of websites they visited.
£16 billion – Taking averages per head, the online spending power of disabled people is estimated at over £16 billion.
£11.75 billion – Estimates show that the 4.3 million disabled online shoppers, who click away from inaccessible websites, have a combined spending power of £11.75 billion in the UK.
How to improve your website for disabled users
In most cases, disabled users are the same as non-disabled users. What they do, however, is shine a strong spotlight on issues that might otherwise be hard to spot, even if they are experienced by all users. To get the most insights and value out of testing with disabled users, we recommend following the below 3 steps:
1. Undertake usability testing with non-disabled users first
This will flush out any obvious issues that would likely stop disabled users in their tracks. This includes overarching issues with the information architecture and navigation as well as content presentation. If it is an issue for a non-disabled user, it will likely be a serious issue for a disabled user and can be almost impossible to overcome. This is both very frustrating from the tester and not valuable from a research perspective
2. Conduct an accessibility audit
Checking your website against the WCAG 2.1 guidelines ensures the underlying code of your website (heading tags, tab order etc.) works correctly for users who use assistive technology, such as screen readers and keyboard shortcuts. It will also highlight the accessibility of your website content, including colour contrast and text alternatives. Again, by fixing these issues first, you will ensure disabled users will not come across obvious (and frustrating) barriers early in the testing.
3. Test with real disabled users
There are many different disabilities and it is important to consider everyone when undertaking disabled user testing. To make your site truly accessible you need to consider the many different access technologies disabled users employ: screen readers, screen magnifiers, voice over technology, keyboard only navigation and many more. Try to recruit testers with all levels of disabilities or impairments and watch how they navigate the site. As with non-disabled testing, allow the tester to lead the session and probe as they go to understand what they are thinking or feeling (more facilitation top tips).
Testing with disabled users at this stage will ensure you are getting genuine feedback about how the user feels about your site and how easy or difficult it is to use, not how frustrated they are by obvious technical or usability issues.
With this approach you are making the best use of the testing time and ensuring your testers have a good time doing it.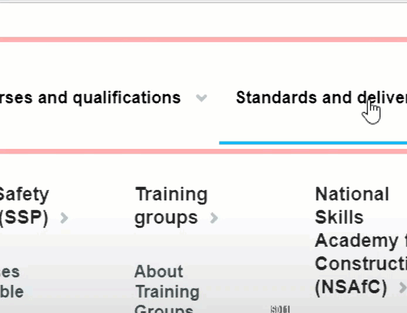 An example of a screen magnifier being used
Related content: what is the purpose of usability testing, how to write a usability script